Binchotan x lacquer / Taiichi Kirimoto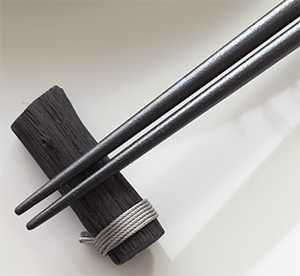 With the advance of archaeological research in Wajima, known for its Wajima lacquerware, the old lacquerware unearthed has revealed that its layered-lacquering techniques originated in the Muromachi period or before.
Research by the archaeologist Kasho Yatsuyanagi, an authority on archaeological lacquer who lives in Anamizu, Noto, has revealed that the lacquerware was made of diatom earth dating back about 200 years before the mid-Edo period. As research on archaeological lacquer develops further, the origin might date back to an even older time.

I came up with a new type of lacquerware with a highly durable surface after reexamining the properties of "Wajima jinoko," a carcinated and powdered diatom earth produced in Wajima City.
With the help of Eichi Kobayashi, a lacquer foundation painter, we have examined stable lacquering techniques for three years now.
Currently, six craftsmen are working on this "makiji," including Eichi Kobayashi, four lacquer painters from the Kirimoto Wooden Craft Workshop and one from another collaborating workshop.

Now let me talk about Binchotan and lacquer.
We usually mix lacquer and charcoal powder to create Taka Makie (raised lacquer work.) A mixture of lacquer and silver is used for higher class products. So, when I was requested to create lacquer products using fine Binchotan powder, I at first thought I could make it by using our unique makiji techniques because I knew that we would use Binchotan particles and assumed that those would go well with lacquer. However, my idea was too optimistic.
Binchotan particles are much finer than Wajima jinoko, and are moreover light in weight. While craftsmen were painting lacquer and sprinkling Binchotan, particles started floating in the air and passing through the gaps between their faces and masks, making it difficult for them to breathe. It was awful.

Through a process of trial and error, we finally created our oval Binchotan lacquer chopsticks.
They are gentler, smoother to the touch and are softer in the hands than makiji chopsticks using Wajima jinoko.

Craftsmen use three types of planes to cut and form the oval shapes. The tips of the chopsticks are round, so making the wooden basis by machine seems to have been difficult. A trial project by the Industrial Research Institute of Ishikawa previously showed that these oval chopsticks are ergonomically suited to the hand.

I am really grateful and truly inspired to have been given a wonderful opportunity to work on Binchotan and lacquer. I hope I can keep on with such challenging work.

Taiichi Kirimoto
The representative of WAJIMA KIRIMOTO/Kirimoto Wooden Craft Workshop and a part-time instructor at Wajima High School, the University of Tsukuba, the University of Shiga Prefecture and Kanazawa College of Art, etc.
The company originally used to manufacture and sell Wajima lacquerware from the late Edo period to the Meiji period. In the early Showa period, the founder established a business specializing in carving the wooden cores of the lacquer. Taiichi Kirimoto is the third generation owner. He founded WAJIMA KIRIMOTO eight years ago and is now providing an integrated manufacturing system ranging from wooden modeling to lacquering works. He is engaged in creating lacquer vessels, small articles and furniture as well as interior elements. The products are all naturally durable and long-lasting for daily use and allow continued use through the application of lacquer again even if damaged.
WAJIMA KIRIMOTO/Kirimoto Wooden Craft WorkshopF
http://www.kirimoto.net/